How to Buy the Right Chefs knife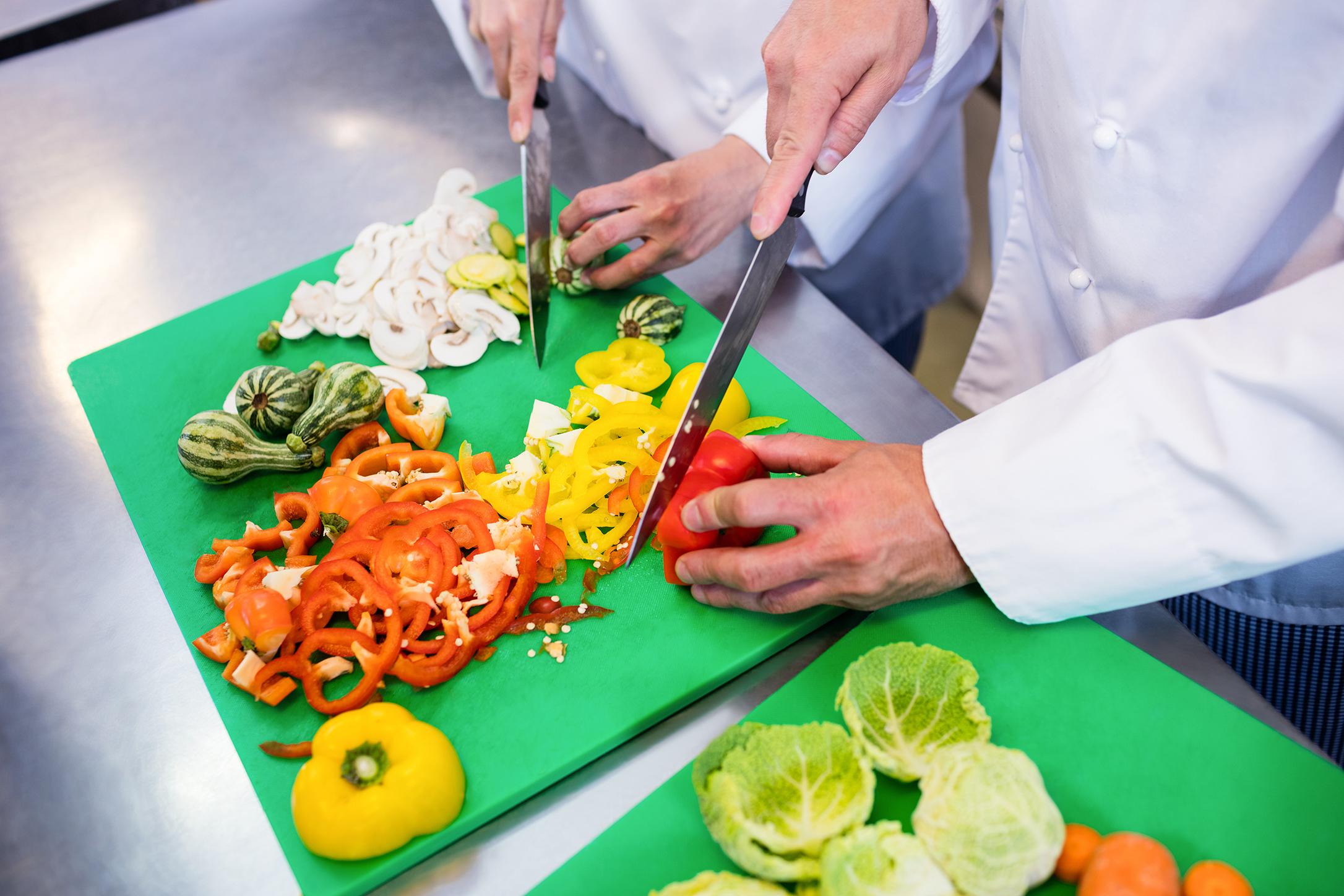 An essential piece of kitchen kit for any chef, knives can be a considerable investment. Make sure you buy the right one for you with help from our guide to knife types by function. As with all professional kitchen equipment, the quality of a chef's knife is reflected in the price. Balance is an essential factor of kitchen knife construction. There should be a counter-balance between the handle and the blade so that the knife sits comfortably level in the hand.
UNDERSTANDING KNIVES
Understanding the different types and choices of kitchen knives on the market is key for any professional chef before investing in the tools they will use day to day. There are many different kinds of knives and the various parts of each knife are integral to the weight, feel and function.
Point - Often used for piercing, this is the point where the edge and spine come together.
Tip - The forward part of the knife, this includes the point. This is often used for intricate cutting. 
Edge - The edge is the cutting part of the knife, which extends from the heel to the point.
Heel - The heel is opposite the point, it is the rear part of the blade, nearest to the handle.
Spine - The spine is the top of the knife blade, opposite the edge.
Bolster - The bolster is the area that connects the blade to the handle, it is used for balance and helps protect your hand from the blade.
Tang - The tang is an extension of the blade that goes into the handle of the knife, the handle is then attached to this.
Scales - The scales make up the handle. Typically, 2 scales are attached either side of the tang with rivets to create the handle. They can be made out of synthetic or wood materials amongst others.
Rivets - These are metal pins that join the scales to the tang to create the handle.
Butt - the end of the handle.
STYLES OF KITCHEN KNIFE
The 2 main styles of knife found in kitchens are Eastern and Western, both are a product of the different types of cuisine they are used for and both have very different looks and functions.
EASTERN - Eastern-style kitchen knives are made from hard steel, with thinner blades. This means that they are generally lighter than their western counterparts and do not need to be sharpened as often, but when they are sharpened, they can be significantly more difficult to regain the edge. These style of knives are used for more delicate tasks, such as sushi preparation, where a lighter, sharper knife is ideal for intricate cutting and slicing.
WESTERN- Western-style kitchen knives are usually made from a slightly softer steel than eastern knives, meaning they do not retain their cutting edge for as long, but are easier to sharpen and maintain. They usually have more weight and a thicker blade, bolster and tang to stand up to western cuisine's heavy-duty chopping.
SERRATED OR SMOOTH?- Serrated blades have a smaller point of contact on the cutting area than smooth blades, therefore exerting more force from each point onto the surface. This is an advantage when cutting items generally harder on the outside than the inside, such as cooked meats and fruits. Due to the reduced point of contact when cutting, serrated blades usually require less periodic sharpening, but when they do blunt, they are more difficult to sharpen than a smooth blade.
MATERIALS USED IN MAKING KNIVES
The different types of material used in a knife can have a big impact on its function. There are 3 different steel types that are usually used when making Kitchen Knives. Titanium-Enhanced - This alloy allows for higher heat temperance, creating a much harder blade. But they are also more flexible than standard steel, so are great for filleting and other intricate tasks.
HIGH CARBON STAINLESS STEEEL: High carbon stainless steel is generally the most commonly used metal for kitchen knives. The carbon creates a very hard blade, which will stay sharp for longer, and is easy to maintain. The stainless steel is made up from 18/10; 18 parts chromium and 10 parts nickel, which means the blade looks polished and clean as with most cutlery made from this material.
HIGH CARBON STEEL Very similar to the High Carbon Stainless Steel, this blade will maintain a sharp edge and is great for a wide variety of heavy and light duty tasks, the lack of stainless steel means that the aesthetics of the blade will dull and discolour over time, although this does not affect it's performance.
SHARPENING STEEL- This is always a necessary investment, don't forget to invest in a good sharpening steel blade, to retain the sharp edges of your purchase, such as this sharpening steel blade from Global.
THE DIFFERENT TYPES OF CHEFS KNIVES
The range of kitchen knife blade designs is huge. Here is just a small selection of the more widely-used styles of blade.
COOKS KNIFE This basic kitchen knife is ideal for a wide range of cutting and chopping jobs. It has a pointed blade and comes in a wide range of blade sizes. Plastic handled varieties in a range of different colours are also available.
TURNING KNIFE This short-blade knife has a downward-pointed hooked end designed for easy turning of vegetables.
SCALLOPED EDGE This long thin knife has a scalloped edge. The scallops allow air to pass around the blade as it cuts very thin slices and is therefore suitable for cutting cold meats and such like.
SERRATED EDGE Serrated blades tear as well as cut. Narrow serrated blades are suitable for soft foods such as cucumbers or tomatoes and serrated blades are fantastic for cutting hot meats (carvery) and bread.
FISH FILLETING KNIFE This is a thin, slender and slightly flexible blade, ideal for the filleting of primarily flatfish.
HACHOIRS This variety has curved blades, usually with a handle at either end. Hachoirs are traditionally used to chop herbs. Every commercial kitchens will require a full range of knives for cutting through different types of food with ease.